Bagels are not that big in Thailand and SE Asia but can be easily made with your sourdough starter.  Much easier than you think.
One ingredient that you see in most recipes is malt powder or malt syrup.  These ingredients are not impossible to find but it's difficult to find at best.  This recipe uses baking soda in the boiling water instead of the malt powder and the results are awesome.  Great texture and just a slight sourdough taste due to the baking powder action.
You can get as creative as you want with the optional toppings.  Right after the boiling, you just brush on some beaten egg on top and add what you want then bake in the oven.  You can pretty much duplicate all the awesome bagels you can find in a NYC Deli.  In this photo, we have garlic on the left and rosemary on the right.  Both are delightful.

Sourdough Bagels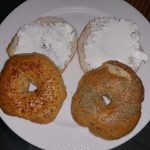 2 cups sourdough starter
1-1/4 cup Water
1 TBSP Olive Oil
5-1/2 -6 cups Bread Flour
1 TBSP Salt
1 TBSP Bakin Soda
Optional Dried Onions, Garlic, Rosemary, Thyme, Poppy Seeds, etc. (For a topping of your choce)
Nix the sourdough starter, water, olive oil, flour, and salt together by hand. This will be a firmer dough than usual. Let it rest for about 10 minutes,
Knead the dough in a mixer with a dough hook. until firm. This will be a firmer dough than usual.
Lightly grease a bowl and transfer dough. Let it rise for 4 hours.
Pour the dough on a floured work space and knead the dough by hand. After a good kneading, cut the dough into 200 grams a piece.
Shape the bagels by making each piece into a ball and using your thumb to punch a hole through the middle of the ball, stretching to make the center hole. Set the shaped bagels on a parchment or silicone lined baking sheet.
Cover and let stand for an hour.
Fill a large pot about half way with water. Add a tablespoon of baking soda and bring to a rapid boil.
Place as many bagels that would comfortably fit floating in the boiling water. Boil for 30 seconds per side. Take out and place on rack and boil another batch until done.
OPTIONAL: Bruch the bagels with the egg to glaze the top. Then sprinkle the topping of your choice. This is only limited by your imagination. Go CRAZY!
Brush the bagels with milk or an egg glaze at this point, if you wish, and top with your desired toppings.
Preheat oven to 230C. The bagel will not expand any further so you can fill the baking sheet tight, but not touching. Bake for 14 to 15 minutes or until golden brown. Cool on a rack.