Sourdough Bread Made in a Single Day.
Sourdough bread in 1 day? Yes it can be done!
This recipe will show you how to make a loaf of sourdough bread in 1 day instead of waiting overnight.  The actual man hours is minimal, the time is used mostly for the sourdough to rise.  Twice.
The video also shows to feed your starter.  The ingredients for this is not included.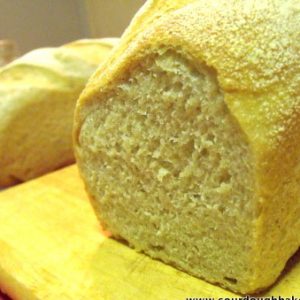 Sourdough Bread in One Day
Ingredients
Instructions
Feed your starter to activate it and let it rise for about an hour.

In a large mixing bowl, combine Starter, Water, Salt, Sugar, and Flour.

Kneed the dough into a smooth ball.

Scrap out mixing bowl and coat with 1 tablespoon olive oil.

Place dough back into the mixing bowl and rotate to lightly coat with the olive oil..

Cover with damp towel and allow to rise approximately double it's size. The time it takes depends on the environment. The warmer it is, the faster it will rise. From a few hours to 10 or more hours.

After the dough has risen to double it's size, kneed the dough again to release some of the gas.

Coat a bread pan with 1 tablespoon of olive oil and place dough inside the pan.

Place dough in the bread pan, cover with damp towel, and allow to double in size again

Uncover and place the pan in oven at 190C for 30 minutes. Place an additional small pan of water inside the oven to increase moisture inside.

Allow the bread to cool in the pan before removing. Then enjoy!