Pastrami is one of my favorite meets and one that is expensive in Thailand.  So I got me some Pink Curing Salt and Pickling Spices and went to town on this.
You can get all the ingredients fairly easily except for Pink Curing Salt #1 and for the Pickling Spices.  But you can get that on this website.  The instructions are very easy to follow but it takes 5 days for the brine to cure the meat.  Most of use don't have a smoker but at the end of the video he will mention that it works well to heat it up to 200F in the oven.  We find if you put in a pan of apple juice it will keep it moist and give a nice hint of additional flavoring to the pastrami.  You can pretty much put any liquid in… a can of beer may be an excellent choice.
Be sure to send in some pictures on the Asian Artisan FB group.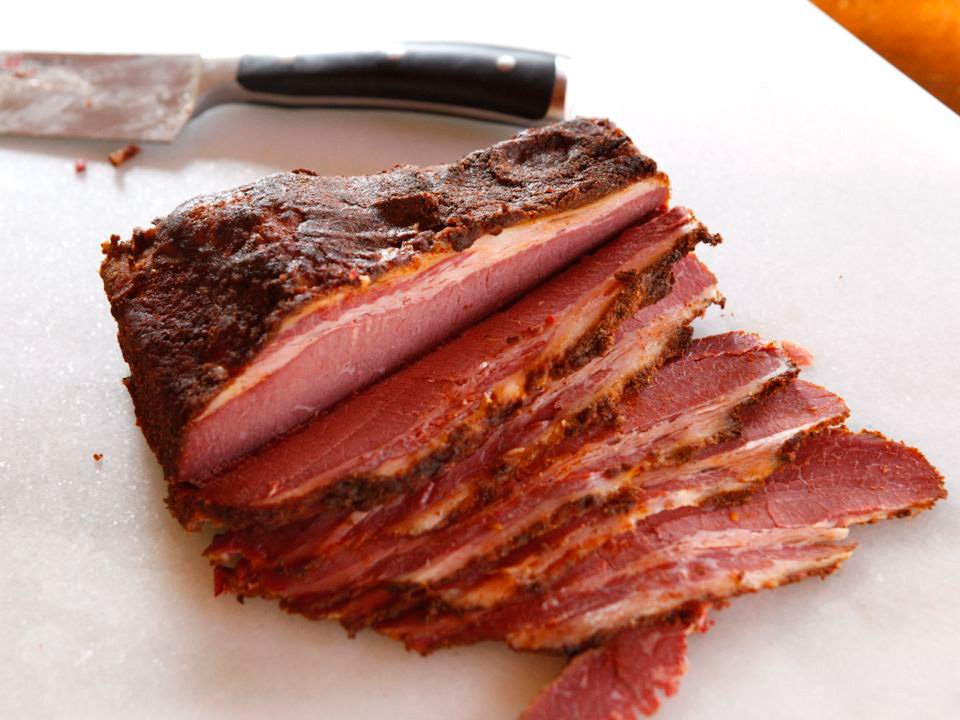 Home Made Pastrami
Ingredients
Brine
3

quarts

Water

1

quart

ice to chill heated brine

1/4

cup

honey

1

cup

Sugar

1/2

cup

brown sugar

2

Tbsp

Pickling Spice

1

Tbsp

Coriander seeds

1

Tbsp

Mustard seeds

5

cloves

Minced Garlic

1

cup

Kosher salt

1/4

cup

Pink Curing Salt #1
Rub
1/4

cup

Ground Coriander

2

Tbsp

Kosher salt

2

Tbsp

Black pepper

2

Tbsp

Garlic powder

3

Tbsp

brown sugar

2

Tbsp

Paprika
Instructions
Place all the brine ingredients in a pot and bring to boil.

After bring to a boil, take off fire and let to cool to room temperature.

Place brisket in the brine and keep in the refrigerator for 5 days. Flip the brisket every day.

Place the brisket in fresh cool water to remove excess salt. Let sit in the refrigerator overnight.

Pat dry the brisket. Mix all rub ingredients together. Rub a generous coating over the brisket.

Either place in a smoker or an oven at 300F. Cook until internal temperature of the brisket reaches 200F. Add a pan of water or flavored liquid in the oven to keep it moist.