Corned Beef is another wonderful meat that you can make from the beef you can get in Thailand and Asia.
The curing process is VERY similar to that of pastrami.  The only difference is how the brisket is handled after the curing in the brine.  With pastrami, you smoke or roast.  With corned beef, you boil.  Both way produce a very nice deli meat.
This recipe not only goes thru the curing process, but it continues on with how to make an awesome corned beef and cabbage.
The only ingredient you may have trouble finding in Asia is the Pink Curing Salt #1 which you can get right here on this site.
Eat well, my friend,
[embedyt] http://www.youtube.com/watch?v=7cu1dsem3dI[/embedyt]
Curing and Cooking Corned Beef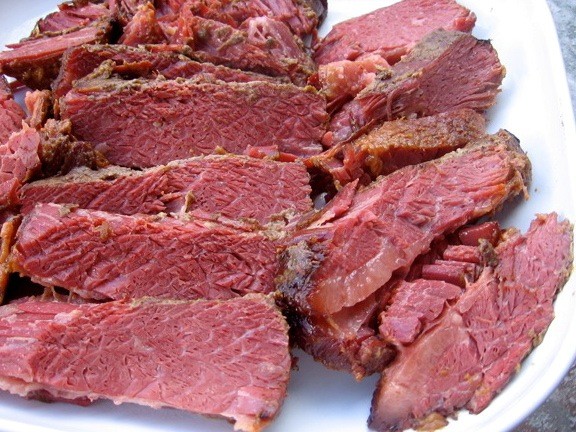 Brine
2 quarts Water
1 cup coarse salt
1 tablespoon pink curing salt
1/2 cup Sugar
1 teaspoon Coriander seeds (crushed)
1 teaspoon Mustard seeds (crushed)
1 teaspoon black peppercorns (crushed)
1 cinnamon stick (crushed)
4 dried bay leaves (crushed)
8 cloves whole
Corned Beef
5 pounds flat-cut beef brisket
1 medium onion (halved)
1 medium celery stalk (halved)
1 medium carrot (peeled, halved)
1 pound baby turnips (peeled, trimmed)
1 pound baby carrots (peeled, trimmed)
1 medium head cabbage (cut into 8 wedges)
1 pound small red potatoes
Dijon mustard (for serving)
Dijon mustard (for serving)
Make the brine: Bring water to a boil in a large pot. Add salts, sugar, and spices; remove from heat, and stir until salts and sugar dissolve. Let cool.
Make the corned beef: Place brisket in a nonreactive container just large enough to hold it. Pour cooled brine over meat. Place 2 small plates on top to keep meat submerged; cover, and refrigerate for 2 weeks.
Rinse brisket; discard brine. Place in a large pot. Add enough water to cover by 2 inches. Add onion, celery, and halved carrot, and bring to a boil. Reduce heat, cover, and simmer until very tender, 3 to 3 1/2 hours.
Set a steamer in a large saucepan. Add enough water to reach the bottom, and bring to a boil. Add turnips. Reduce heat, cover, and steam until tender, 8 to 10 minutes. Transfer to a bowl. Repeat with baby carrots, steaming 10 to 12 minutes. Add to turnips.
Transfer corned beef to a cutting board. Tent with foil, and let rest for 30 minutes. Discard remaining solids from broth, then bring to a boil. Add cabbage and potatoes, and simmer until tender, about 25 minutes. Add turnips and carrots, and cook until warmed through. Transfer vegetables to a platter; reserve broth.
Trim excess fat from beef. Slice thinly against grain, and transfer to platter. Serve with broth and mustard.