This bread is amazing. Seriously. I could never have thought that this bread wasn't made out of wheat. It's not like a sourdough bread containing gluten but it's like a normal wheat loaf. I wish you could taste this bread right now. But hey, you can!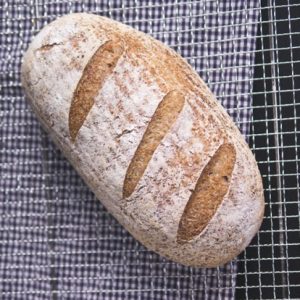 Gluten Free Sourdough Bread
Ingredients
80

g

brown rice flour

140

g

cold sourdough starter

110

g

water

350

g

water at room temp

20

g

psyllium husk

10

g

ground golden flax seeds

60

g

sorghum flour

60

g

oat flour

60

g

buckwheat flour

60

g

corn starch

60

g

potato starch

24

g

granulated sugar

1

tsp

salt
Instructions
In the evening: Mix brown rice flour, sourdough starter and water in a bowl and cover with cling film. Let sit over night(8-12 hours) in a warm and non-drafty place.

In the morning: Mix water, psyllium husk and ground flaxseeds in a bowl and whisk until a thick gel forms. Set aside.

In a separate bowl mix all of the dry ingredients.

Add the sourdough starter that you made the night before to the wet ingredients and mix.

Add half of the dry ingredients to the wet mixture and stir.

Add the rest of the dry ingredients and stir.

Using an electric hand mixer with dough hooks, work the dough until the flour is fully incorporated.

Transfer the dough to a floured work surface and shape it into a loaf.

Place the loaf in a proofing basket lined with a tea towel(+ some buckwheat flour to avoid the dough from sticking to the towel)

Fold the towel over the loaf and place the basket in a plastic bag.

Allow to rise in a warm and non-drafty place for 4-6 hours.

Preheat the oven to 400°F/200°C with a baking pan inside.

Flip the dough upside down on a parchment paper and transfer to the hot baking pan. Score the bread.

Put a pan with a couple of tablespoons of water in the bottom of the oven. Bake the bread in the middle of the oven with a tin foil tent on top for 40 min.

Bake another 20 min without the foil.

Let cool on a wire rack for at least 1 hour.