Cream cheese is one of the more easier cheeses to make and there are many recipe variations.  I found this recipe to me much more creamier due to it using light whipping cream of half and half.  And the mesophilic culture makes the cream cheese smoother and tastier.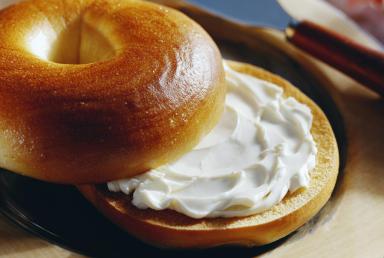 Easy Cream Cheese Recipe
Ingredients
1

quart

light cream or half and half

1

package

Mesophilic Culture

- Buy Here

1

Butter cloth

Double layer cheeseclothe also works fine
Instructions
Allow your half and half to reach room temperature, your cheese will set more quickly if it isn't refrigerator chilled when you add the starter culture.

Add your half and half to your container, I like to use a flat baking dish to make mine, I am sure technically there is no real difference in how long it will take your cheese to set, but for me, I like to do this in a flat container.

Add your culture to the milk, sprinkling it over the top. I let this set for about two minutes before I stir in the culture and mix it up really well.

Next I simply place some plastic wrap overt the top of the dish, and let it set on my counter anywhere from 8 to 12 hours. While my pets would never climb on top of a countertop and see what is there, I like a little extra insurance from flying objects to land in my cream cheese.

When the cream cheese is set, it will have the texture of yogurt. It will appear to you that the whole process isn't going to work, but here is where you wait and be patient, it really takes about 10 – 12 hours for the cream cheese to set in a cooler house, so be patient. Here is what mine looked like 10 hours after setting. When it is thick like this, you can start to drain the whey out of it.

I take the butter cloth, and make a small sling over the top of the pot, using the handles to secure the cloth. I then add my soft cream cheese into the cloth and let the whey drain out of it.

You can let the whey drain out for up to 12 hours. Then you have some delightful cream cheese you can package into smaller containers. You might like to stir in some herbs, or even some jam for a nice treat for breakfast.