Abbaye de Citeaux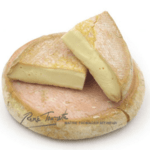 Abbaye de Citeaux is a semi-soft, washed-rind cheese made by the monks at the Abbaye de Citeaux in Burgundy, France. Here is a recipe for making Abbaye de Citeaux cheese at home, along with a brief history of the cheese.
History:
Abbaye de Citeaux cheese has been made by the monks at the Abbaye de Citeaux since the 16th century. The cheese is made using traditional methods that have been passed down through the generations. The monks keep a small herd of cows on their farm, and the cow's milk is used to make the cheese. The cheese has a buttery, nutty flavor and a creamy texture that makes it perfect for eating on its own or melting into dishes.
Large stainless steel pot
Thermometer
Cheese cloth
Cheese mold
Cheese press
10 liters of raw cow's milk
1/4 tsp of thermophilic culture
1/4 tsp of mesophilic culture
1/4 tsp of rennet
2 tbsp of cheese salt
Heat the cow's milk in a large stainless steel pot over low heat, stirring constantly to prevent the milk from scorching. Heat the milk to a temperature of 32°C.
Add the thermophilic and mesophilic cultures to the milk and stir well.
Dilute the rennet in 60 ml of cool, non-chlorinated water. Add the rennet to the milk and stir well for about a minute.
Cover the pot and let the milk sit undisturbed for about 45 minutes to allow the rennet to coagulate the milk.
After 45 minutes, check the coagulation by inserting a knife into the curd. If the knife comes out clean, the coagulation is complete.
Cut the curd into small pieces and let it rest for about 10 minutes.
Heat the curds to 38°C and stir gently for about 20 minutes.
Drain the whey and pour the curds into a cheese cloth-lined cheese mold.
Press the cheese for 12 hours, turning it occasionally.
Remove the cheese from the mold and sprinkle the cheese salt over the surface of the cheese.
Place the cheese in a cool, humid place and wash the rind with a brine solution every 2-3 days.
Allow the cheese to age for 4-8 weeks, depending on the desired flavor and texture.
Enjoy your homemade Abbaye de Citeaux cheese!